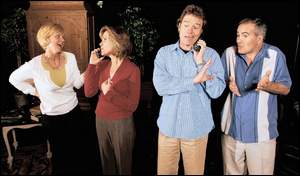 Great interview with Bryan, his wife Robin Dearden and friends (Bill Timoney and Georgette Reilly) on their working vacation to West Long Branch to perform in Neil Simon's "Chapter Two" beginning Thursday as we reported previously.
Cranston is remembered as Hal, harried father of a rowdy boy brood on the Fox sitcom "Malcolm in the Middle." He and his actress wife, Dearden, have traveled East from their San Fernando Valley home to perform in Neil Simon's "Chapter Two," beginning Thursday in West Long Branch.

The Cranstons view the venture as a working vacation.

"But," says Dearden, "I think it's going to be more vacation than work. We're going to be there a month; our run is just two weeks. We've rented a house three blocks from the beach."

Are there any particular Jersey Shore sights the Cranstons are looking forward to?

"We're clueless," says Dearden with a laugh. "This is all new to us. We've never had an Eastern summer experience."

Although, Cranston says he had visited the Shore during his New York years, in the '80s.

"It was usually day trips," the actor says, "but I always thought this is a great area, and I'd like to spend more time here.

"What's funny is — because I have such a workaholic mentality — I think if we weren't working, I would never have booked a place on the Jersey Shore for one full month. I'd come for a week, maybe. So this has really given us an opportunity to virtually live here for the month of July and see what it's like.

"We walk down to the boardwalk, get our exercise in. We're having a great time visiting all the restaurants in the area. It's really neat."
Click 'more' to continue reading the interview.
Source: APP.com | Info on 'Chapter Two' | Discuss this post in the FORUM

Meanwhile, another acting married couple — Monmouth County residents Bill and Georgette Reilly Timoney — will round out Simon's four-character play. And guess what?

"They're our dearest friends," says Dearden of the Timoneys.

Dynamics at play

"The dynamics are really at play here," says Cranston.

"Because Bill is an old friend for 25 years. Robin and I have been together over 20 years. Georgette, we've known since she came into the fold seven years ago. So the dynamics of friends and partners is really splitting and coming together like atoms."

A former cast member of the ABC soap opera "All My Children," Bill Timoney recalls that he and Cranston first met in 1983 when Cranston, then a struggling actor, was cast on "Loving," another ABC soap.

Recalls Bill: "Bryan, ever the hustler, wanted to get publicity for 'Loving' by tagging along with 'All My Children.' "

To that end, Cranston proposed a "grudge" touch-football match between the two soaps, which took place in New York's Central Park.

"We went on Regis (Philbin)," Bill recalls. "To give you an idea of how long ago this was — it was "Regis and Cindy Garvey.' "

Ever since, Bill and Cranston have been the best of friends. (When the Timoneys were wed in 2002, Cranston served as best man.)

Acting alongside a friend, Bill believes, "expands the comfort zone. You're so relaxed with each other. You get freer."

"With everyone knowing each other, all bets are off," says Georgette. "You can go as far as you want, and always know that the other person will be there with you."

Theater vs. film

The Cranstons previously acted together in a movie — "Last Chance," which Cranston wrote and directed — as well as onstage.

"They were two different experiences," Dearden says.

"With theater, I think you eat, breathe and sleep it. It's with you all the time. On the movie, however, we got real specific on how we would treat each other because there was a whole cast and crew, and Bryan had a lot of responsibility on his shoulders. It was more defined with the movie as: When we are working, we aren't married."

"Chapter Two" is based on a period in Neil Simon's life following the death of his first wife when, ready or not, he was thrust back into the dating world. Cranston had no trouble finding his "Chapter Two" character of George.

Says the actor: "If you're happily married and you just think, "God, what would happen if something happened to my wife and she passed away?' That's the only thing you have to think of. That's what George is going through. He's having a difficult time. In that sense, it's not hard. It's not too much of a stretch to imagine that."

"It's poignant, but very funny, because he's very funny," says Dearden of Simon.

"There's a lot in it that will resonate with everybody. And it's one of those parts that, quite frankly, a woman of my age would want to do her whole life. It's pretty cool."

Back when the Cranstons first met, Dearden had carved a niche playing perky damsels-in-distress on a slew of '70s and '80s series: "The Incredible Hulk," "T.J. Hooker," "Magnum P.I.," "Knight Rider," "The A-Team."

"I think I said "Help me!' more than anything else for about 15 years of my life," she says, laughing again.

"That's how Bryan and I met on "Airwolf.' And I believe at the time, I said, "Help me!' "

And he did, Dearden is told.

"And he did," she agrees.
Source: APP.com | Info on 'Chapter Two' | Discuss this post in the FORUM