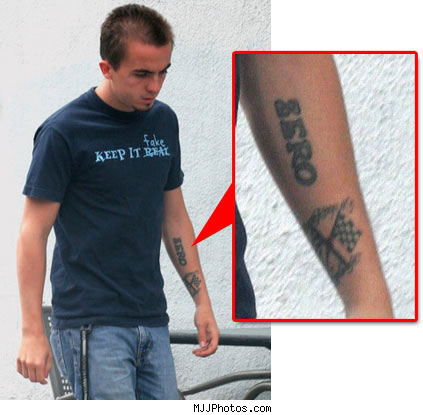 Frankie Muniz is hardcore! Let's count the ways …

Ironic hipster t-shirt? Check. Hideously tatted-up arms? Check. Shaved head and funky facial hair? Check.

Walking cliché former child star? Check.
Source: TMZ.com
What can I say? They have just about everything wrong, Frankie is the complete opposite the a 'cliche former child star'
T-shirt is just a t-shirt! 2 small tattoos on the inside of his arm, hideous? erm..no. His head isn't shaved its just cut a little short and little facial hair – so what?
As for the comments on the TMZ post – the ZERO tattoo stands for his zero tolerance's on drugs and alcohol and he isn't trying to be a movie/TV star he's excelling in pro racing!
TMZ are idiots? Check.
Discuss this post in the FORUM.