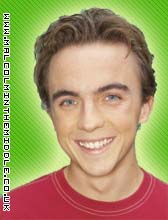 A revealing interview with Frankie from Star.com.
Frankie Muniz, the actor famous for his turn as the title character in TV's Malcolm in the Middle, had his left wrist tattooed not long after he began his career as a professional race-car driver last year. The ink is an image of twin checkered flags surrounded by ornate script that reads, "Please Keep Me Very Safe." As life-defining scribblings of would-be champions go, it's not exactly "Live Fast or Die." But then, Muniz, 21, isn't your average speed freak. He's the rare former child actor who's never checked into rehab, let alone ingested a drop of alcohol. (And he's got another tattoo, of the word "ZERO," that signifies what he calls his "zero tolerance for drugs and alcohol.")

He's also the rare aspiring racer who is attempting to overcome a seemingly insurmountable disadvantage in experience. While most of his rivals in the Champ Car Atlantic Series – a minor-league loop that will take the track in the lead-up to tomorrow's Toronto Grand Prix – spent their childhoods zooming around in various motorized racing machines, Muniz charted a less obvious course.

"I took tap and jazz class," he said.
Click 'more' to continue reading.
Source: Star.com | Thanks RyeBeach | Discuss this post in the FORUM
He only stepped into a competitive driver's seat in 2005, when he won a celebrity race in Long Beach, Calif. He's been racing full-time for all of 16 months. So perhaps it was no surprise that yesterday's Atlantic-series provisional qualifying session turned into yet another episode of Malcolm in the Back. Muniz, who has placed no better than 19th in seven races, qualified 22nd out of 22 drivers. He was more than a half-second behind the next-slowest driver, more than two seconds slower than the quickest. In other words, race organizers weren't rushing to purchase a magnum of non-alcoholic champagne for tomorrow's post-race podium.

"A lot of times, I'm a little timid," Muniz said. " I could pass somebody, but I kinda hang back because you risk crashing. And I'd rather finish the race than crash. My driver coach says, `No, no, no. You need to be aggressive and you need to learn to push …'

"And it's not that I think, `Oh, God. I could get hurt.' I just don't want to crash because a) I don't want to pay for the crash damage, and b) then you're just stuck watching on the sidelines."

Muniz, the New Jersey-born kid who wrapped up a six-year run as boy-genius Malcolm Wilkerson with the show's 2006 finale, watched Hollywood's recreational fast lane from a safe distance. Of the show-business peers who've become gossip-mag fodder, Muniz shrugged: "I never really got into hanging out with those people. I did the work and I left, and I went home and I went to sleep."

This is not to suggest that Muniz is a total killjoy. He was one of the lucky few zipping down Lake Shore Boulevard doing a perfectly legal 250-some km/h yesterday afternoon. And he did have the good fortune of stepping out of his team's trailer to see a lithe young blonde woman offer him a warm smile. His girlfriend?

Muniz rolled his eyes and smiled: "Maybe."

Indeed, the young man has options. He's in a couple of movies set for release. He buys and sells luxury cars often enough that he says he has never owned a car long enough to have its oil changed. (His drive du jour, this after unloading a Maserati that didn't turn his crank, is a Mercedes-Benz E63).

But racing, he said, is his life. So how, exactly, will a straight-edged tap dancer find a way to thrust a lead foot to the ragged edge?

"You've got to be crazy, which I'm building – I'm building the craziness factor into my life," he said. "But it's tough mentally to tell yourself, `Go faster,' even though you already feel like you're about to crash."
Source: Star.com | Thanks RyeBeach | Discuss this post in the FORUM