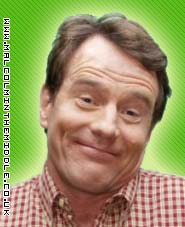 A lot is currently happing for Bryan Cranston, AMC have green lit 'Breaking Bad', he's considered leading man material and now we have news that he will be appearing in the professional theatre of Monmouth University, in a revival of Neil Simon's Chapter Two.
John J. Burke directs the staging, which features Cranston as a widower author and Cranston's real-life wife, Robin Dearden, as his new love interest. Their actor pals Bill Timoney and Georgette Reilly play their on-stage pals.

According to the troupe, "In the semi-autobiographical Chapter Two, Cranston plays grieving widowed writer George Schneider, who unexpectedly meets his next match in Jennie Malone — a rocky midlife reawakening based largely on the romance and marriage of playwright Simon and actress Marsha Mason."
Performances play Pollak Theatre on the Monmouth University campus July 19-29, 400 Cedar Avenue, West Long Branch, NJ. Tickets are $35. For information, call (732) 263-6889 or visit the official site.
Source: Playbill.com | Discuss this post in the FORUM.