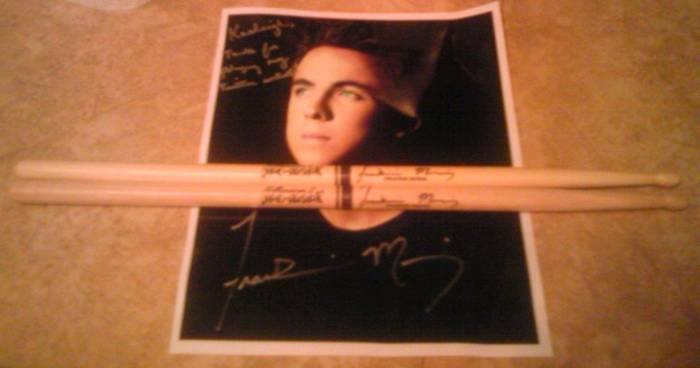 Frankie Muniz (Malcolm) joined You Hang Up in December 2009, after the band were looking for a drummer.
The band is now going to be touring the United States in August:
Sat, August 7 – 7:00 PM — at Vibes Main 1 — Medford, OR
Fri, August 20 — 6:00 PM — at Marquee — Tulsa, OK
Sat, August 21 – 6:30 PM — at New Daisy Theatre — Memphis, TN
Sun, August 22 – 7:00 PM — at The Subterannean — Chicago, IL
Mon, August 23 – 9:00 PM — at Mexicali Live — Teaneck, NJ
Tue, August 24 – 8:00 PM — at Towson University— Towson, MD
Wed, August 25 – 6:30 PM — at The Canal Club— Richmond, VA
Thurs, August 26 – 8:00 PM – at Tremont Music Hall — Charlotte, NC
Fri, August 27 — 8:30 PM — at The Loft — Dallas, TX
Sat, August 28 — 8:00 PM — at House of Blues — Houston, TX
Some new tracks, featuring Frankie's drumming have also been put up (in an unfinished 'pre-mix' state) on the band's MySpace page. These are the first tracks that we have heard that have Frankie on drums; the previous 'Release Me EP' tracks were released before Frankie joined the band (you can purchase the older EP tracks on the iTunes Store).
'The Search' pre-mix — You Hang Up
Audio clip: Adobe Flash Player (version 9 or above) is required to play this audio clip. Download the latest version here. You also need to have JavaScript enabled in your browser.
'Running' pre-mix — You Hang Up
Audio clip: Adobe Flash Player (version 9 or above) is required to play this audio clip. Download the latest version here. You also need to have JavaScript enabled in your browser.
You can also hear an interview Frankie Muniz did for the JohnJay and Rich radio show, back in January 2010, where he first talks about becoming a member of the band:
Audio clip: Adobe Flash Player (version 9 or above) is required to play this audio clip. Download the latest version here. You also need to have JavaScript enabled in your browser.
Got the t-shirt?
The band have also already started producing some merchandise, with the first band t-shirts now available for purchase.
You can follow the band on Twitter, become a fan on Facebook and also add them as a friend on their MySpace page.
June 25th, 2010