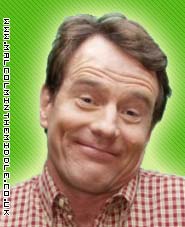 Moving on from the hysterical role as Hal in Malcolm in the Middle, Bryan has shot a pilot for a new AMC TV series "Breaking Bad".
A new article at Variety.com say AMC is on the brink of giving it the greenlight.
The drama series, shot and set in New Mexico, focuses on a suburban husband and father (played by Cranston) who learns he has terminal cancer. He decides to overhaul his life and, drawing upon his experience as a chemistry teacher, remakes himself into a meth dealer.
Pilot of the Sony Pictures Television series wrapped earlier in the year, with AMC weighing a series order for the past several months. While a deal is close, some final details still need to be worked out.

AMC spokesman Matthew Frankel declined to comment on a greenlight.
Discuss this post in the FORUM.
Click 'more' to read the full article.
May 23rd, 2007