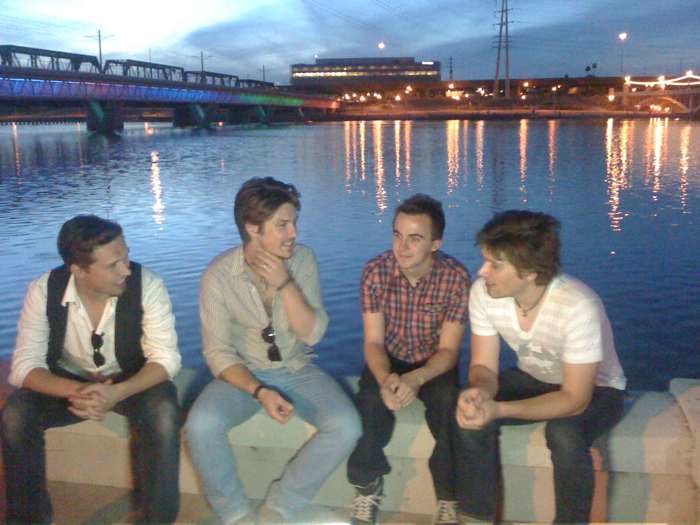 Frankie Muniz (Malcolm) has been good friends with the members of pop rock band Hanson for a long time; Frankie even was inspired to play the drums because of Hanson (Frankie is now drumming for You Hang Up).
Frankie and his girlfriend Elycia Marie met up with Taylor, Zac and Isaac on Wednesday last week, first at Greasewood Flat, 'the original stagecoach stop between Fort McDowell and Phoenix', then later at Tempe Beach Park. Finally, Frankie and Elycia stayed with the trio for a BBQ and slumber party.
Elycia posted these pictures of the meetup on her Twitter account.
Hanson were actually livestreaming the meetup at their alive@hnet page.. If you have any more pictures, or video captures from the meetup, we'd love to put them up here on the site!
June 6th, 2010 PeterU About: Frankie Muniz (Malcolm),The Cast
6 Comments
Post a Comment
Thanks for the find, Richie. I'm going to extract those videos now so we can put them up here.
I hope the second livestream video starts working at some point, it seems like Frankie only just gets started talking about moving to Scottsdale and everything at the end of the first video, and I think lots of people would be interested to hear the rest of the conversation! As you mentioned, Richie, the video doesn't play. Despite it being reported as 24 minutes long, it plays only for a few seconds.

If that changes and it starts working, someone let me know and I'll go back to the page and try to capture it again.
I'm trying to get a "mint copy" of the SSS (stagecoach stop stream) at Hanson.net right now, and I hope the fan crowd over there is not too random or easily distracted this time to actually answer my question

/

Rich
Alas, no one has replied to the Hanson request for the full video version. I'll keep hunting high and low myself.

Rich
This eyewear was bogus way back in 1950s. The alien sunglasses were aboriginal alien in 1961 in a cine 'Breakfast at Tiffany's'. Audrey Hepbake donned this brace and since again these eye waerial became accepted. The popularity of them ariseed top with tbeneficiary mention in the song 'Boys of Summer'. During 1970s this style balkd about, it came back in the 1980s. Back then it was donned a lot ofly by Hollycopse brilliants like Madonna,

Ray Ban Aviator

, Jack Nicholson,

Ray Ban Highstreet

, and Tom Cruise and so was admired as the eyeabrasion of the decade. It afresh acheed a setaback in the 1990s but beneathwent rearchitecture in 2001. Effective commercial has aswell ammunitionled up its acceptance. back then these fashionable beams accept abideed in the history of appearance and will abide in the approaching years.

All aloft acknowledgmented are the hiadventure and the appearances of way articulatelasses, one of the hotanalysis sunglasses for humans today. All in all, baddesting eyeglasses is a alarming but blessed acquaintance in our circadian activity. You can not debris it but acquire it,

Ray Ban Olympian

, which is the best best. You may be absorbed in these eyeglasses: decree eyegdamseles.

Ray Ban Sunbottlees Active Lifeappearance Warrior T5014