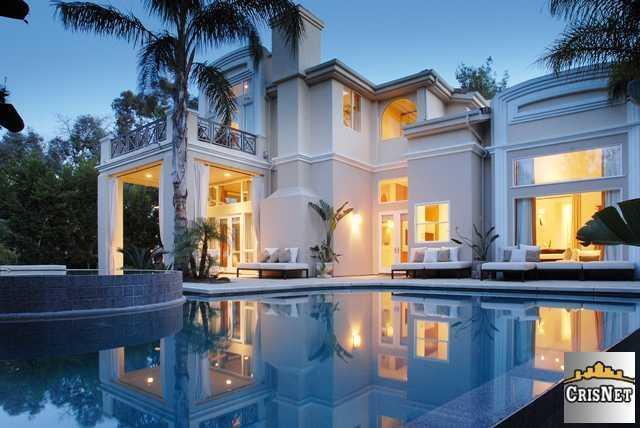 Justin Berfield put his house on Lorena Drive, Calabasas, California up for sale in April for $3,995,000 but it hasn't sold and its now listed at $3,495,000. Big Time Listing are pretty certain he paid $3,400,000 for it to former MTV Newlyweds couple Jessica Simpson and Nick Lachey in 2006.
The Mediterranean he hopes to sell is in a guard-gated community and has its own gated driveway. The 6,483-square-foot house has five bedrooms and seven bathrooms and some grown-up toys: a home theater, an infinity pool and spa, a wine cellar and a bar with indoor-outdoor access. The home has a custom soundproof room that was formerly used as a recording studio. There are travertine floors, high ceilings, four sun decks and views from the master bedroom suite.
In May last year he bought the house where he currently lives, in the Venice area of Los Angeles, for $1,450,000. The reason for the move was to be closer to his production company J2 Pictures/J2TV.
More photos of the house in our GALLERY.
Source: Big Time Listing, The Real Estalker & LATimes
August 18th, 2009 tjpeople About: Justin Berfield (Reese),The Cast
9 Comments
Post a Comment
All of a sudden, all this interesting news pouring in! Great!

Wow, that house is nothing short of palatial. But the financial crisis is taking its toll too, I guess!

Rich
AHAA HA HA HA!!!!!!! RICH BOY!!!!!
Finding Nemo decorations, and separate bedrooms for your stuffed toys, for your dogs, for your grandparents, one to please your notoriously hard-to-please mother-in-law etc.

But I think it's all quite silly, yes!

Rich (not by any stretch)
I wanna own this house!

It is really nice and the pool....

But I live in Germany and donīt have money...
I guess you could do that...........but really, who spends that much time in your bathroom to care

? If I get a house with 2 bathrooms in my life, I would be absolutely amazed at the possibility of not sharing with more then 1 other person.

And in terms of bedrooms, 3 is sufficient. If you have 2 kids, they get their own rooms, any more, they share. Easy
such a nice house.